Earlier this week, we headed to the windy city to explore NeoCon 2017 in search of amazing new ideas and products to bring to our clients. As we walked the floors, we noticed quite a few patterns in the types of products we saw. Read on to learn the design trends from NeoCon that are prominent in 2017.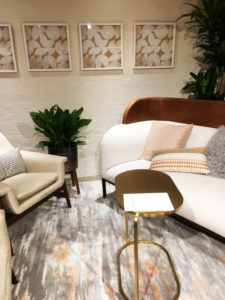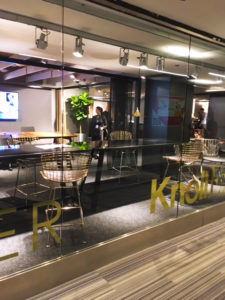 Gold Mine
Gold furniture and accents glinted around every corner. We spotted hanging pendants, plant holders, tables and chairs, and decorative accents in the shiny hue, like in these photos from West Elm (above left) and Knoll (above right). Sticking with a metallic theme, copper and bronze also made an appearance in furniture and décor.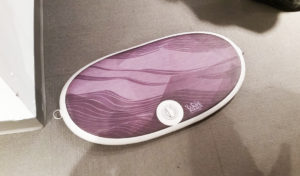 The New Meaning of Work Out
Various booths offered solutions for squeezing a workout in at the workplace. From treadmill desks to beneath-the-desk "Wurfboards"(above) to portable biking pedals that track distance with an app, new office exercise solutions help people kill two birds with one stone – which is especially important for fitting into the busy lives of those in the workforce.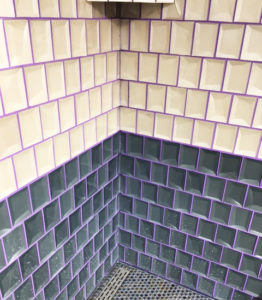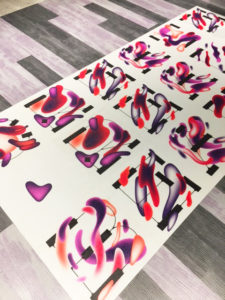 Purple Power
Purple stole the show in many booths and showrooms. This color popped on everything from flooring to lighting and even to tile grout (above left)! The flooring below is from Tarkett's showroom, which incorporated purple throughout its entire design (above right).
Design Responsively
We were mesmerized by design that responded and changed based on people's interactions with it. At Sensitile Systems' booth, we found glittering countertop material that grew darker around our hands as we moved them around it (above top). E Ink wowed us with wall coverings, signage and even a dress that changed color upon sensing a passerby (above bottom).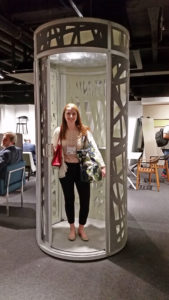 Prioritizing Privacy
As open floorplans have become more common in the workplace, so have problems with employees becoming distracted or having problems focusing. To combat the busyness and high sound level that can come with an open floorplan office, designers created aesthetic methods for workers to obtain some quiet, minimal-distraction time. At NeoCon, we spotted both individual solutions, such as privatized pods (see the above "SpeakSpace" by Unika Vaev), booths and even phone booths for working or taking a call, and group solutions, such as round collaborative pod spaces complete with meeting tables and white boards.