Tiles—whether they are ceramic, porcelain or terracotta, on the walls, on the floors or in the bathroom—can provide a tremendous impact on the look and feel of a space. Coverings, the largest international tile and stone exhibition and conference in North America, shared the following tile trends:
Flecked effect. This is the terrazzo look. With its kaleidoscope of colors and floating fragments, it sparks excitement. Latest versions include larger and different-shaped inclusions than classical terrazzo. It's a good choice for large spaces when you want to project a good burst of energy on the floor.
Gorgeous green. The color palette includes almost every shade of green from dark emerald to soft jade. This color is excellent to use in environments that call for a soothing and calming effect and is popular when you want to bring the outdoors inside.
High gloss. With the practice of cleaning surfaces a lot this past year due to the pandemic, these eye-catching, durable, shiny and reflective tiles have reemerged as a popular item, especially in areas that need to be cleaned frequently.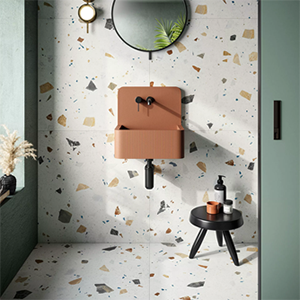 In vein. The popularity of veined-stone looks (marble-like) continues but these tiles have evolved into larger scale designs on larger formats. Looking to create a flowing, luxurious look in a large area? Consider this classic tile.
XXL. Large format tiles are being used on walls, countertops, and exterior cladding. They come in sizes up to 5.25 feet by 10.5 feet, and thicknesses ranging from 3.5 millimeters to 2 centimeters. Because minimal grout is used, it's easy to create a spacious feel with a lot of visual drama.
Biophilia. Many people have spent more time outdoors over the past year and made a connection to nature. Biophilic design, known to support cognitive function, physical health and psychological well-being, is incorporated into tiles. Ceramic tile designs have been including a more natural look that evokes feelings of tranquility often found in nature.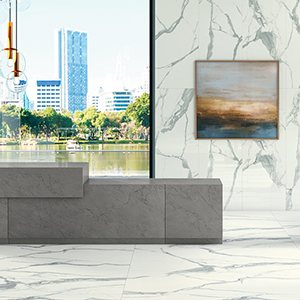 Large hexes. Hexagon-shaped tiles go back to the 1920's and still remain popular. They are not going away. The love for them continues to grow as does the size of these tiles. Hexagons as large as two feet in diameter call attention to a space and create drama.
Pattern tile concrete look-alikes. These historic-looking tiles have a modern twist to them today. Playful patterns and numerous ways to install them provide a striking impact both indoors and outdoors.
Muted tones. Muted tile tones such as soft blues and greens create a soothing and relaxing space and are on the rise in popularity.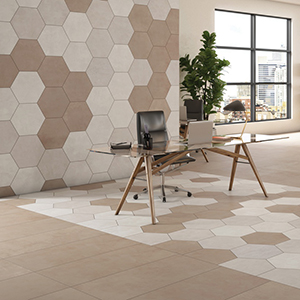 Trends can come and go but some things are for sure; tiles are versatile, and provide a wide range of choices, looks and solutions to many spaces.