In my 35 years of being in the retail/design industries, I've never seen so much acrylic.
Acrylic face shields, sneeze guards and space separators, on countertops, showcases and checkouts. Of course, they are important and necessary, but please think carefully before you swiftly click, "buy and ship". What will these do to your brand and the look of your store? You've invested a lot of time, money and energy into creating an ambience that is reflective of your mission, supportive of your brand, showcases your merchandise, and appeals to your target market. So, don't just place a bunch of hard plastic around your store.
Yes, acrylic is a seemingly benign material, but it can yellow, scratch, warp, scratch surface finishes, and without the right hardware, can fall over easily or cause tripping hazards. These clear panels can also become head bumpers if not properly framed or outlined with some vinyl.
It's important to buy quality pieces. Get testimonials from other users to make sure the acrylic and hardware are top quality.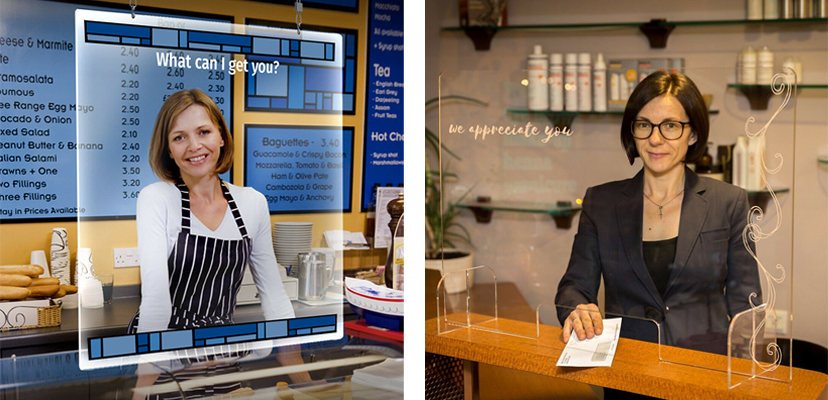 So how do you keep this sea of acrylic that is flooding your selling floor, visually integrated into your brand and store's aesthetic? Consider them to be "functional décor":
See if you can find hardware that matches one of your brand colors or if it can be powder coated to match.
Have graphics created to "decorate" the vinyl, i.e.: a patterned border, your logo, an iconic motif.
Put the same design on all countertop shields, and a coordinating design on all floor-standing panels so there is some consistency to the designs.
Order the floor panels with casters or glides for ease in moving around (floor sets may be rearranged often to accommodate traffic flow changes).
Look for systems that allow you to change out panels so you can use clear, translucent, and/or colored panels. This will bring about a more sophisticated, intentional and branded look to these necessary shields.
We can all agree that they are an essential part of doing business these days, but they don't have to be an ugly part of our business. Just think strategically and carefully about how and where you place these items.
Written by Lyn Falk